Paulomi S. Shroff, MD, FACS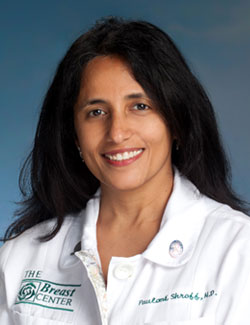 Dr. Shroff is a board certified surgeon. She earned her medical degree and Masters in Surgery at the Lokmanya Tilak Municipal Medical School in India. Her surgical residency took place at the Pennsylvania Hospital in Philadelphia, PA and Abington Memorial Hospital in Abington, PA. Memberships include: Fellow, Royal College of Surgeons, Edinburgh, UK; Fellow of the American College of Surgeons; Member of the Society of Surgical Oncology and American Society of Breast Surgeons. Dr. Shroff joined the Breast Center in 2006 where she is a specialist in breast surgery. She is certified in Breast Ultrasound and Stereotactic Biopsy from the American Society of Breast Surgeons. She is Hidden Scar Breast Cancer Surgery certified.
Dr. Shroff is the Breast Program Director for the Atlanta Medical Center General Surgery Residency Program.
Meet Dr. Shroff